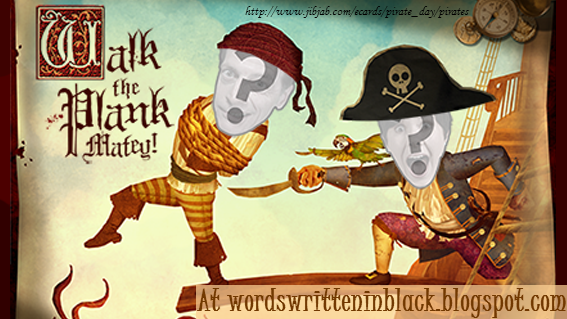 Walk the Plank is a weekly meme hosted here at
The Words Written
, and it's a game that you can play every Thursday. This meme was inspired by all those characters in the books that you hate so much. Yup you heard, or saw, right. It's for those characters that makes you want to throw the book from a window, rip the pages to little pieces, and makes you want to punch the person sitting next to you on the bus. So now you have your chance to kill that character here, and this is how you can do it...
Tell us which character you want to kill? Name, from which book is this character, and if you want to add a picture of how you imagine the character looks like that would be great.
Tell us why you want to kill that character? What did that character do to you?
And how would you kill that character? And guys please nothing graphic, I don't want to have nightmares! (Exa: push them off a cliff, make the walk the plank where the water is infested by sharks, or throw them off a plane without a parachute).
And finally grab the logo, post your own WTP entry on your blog and, leave your link below! So that others can visit your post and decide by commenting if they would totally help you kill the character or if they would save them.
So here's my Walk the Plank...
(David Lyons)
Pioneer
From: Gated by Amy Christine Parker
Have you seen the tv show Revolution? If not you should see it it's really awesome. So in this tv show David Lyons comes out, his character is evil and I just love the way he acts! At first he acts all sophisticated and charming but at the end he goes crazy, sounds familiar? For those who haven't read Gated Pioneer at first is a really charming guy, he even has me fooled! It isn't till the end of the book that we realize that he is evil and he actually goes crazy. Pioneer gathers a group of vulnerable people and creates a community with them, where he is the leader. Pioneer plays with the emotions of the people to make them believe that he is a nice person and worries about them. At the end Pioneer dies, but for the sake of the game let's say that I revive him just to kill him again haha!

So how I want Pioneer to die is by...throwing him to the 75th hunger games arena! Especially in the section with the acid fog, have you guys seen that part in the movie? it was really awesome!
So are you going to help me kill Pioneer, or are you going to save him? Let me know in the comments!:)