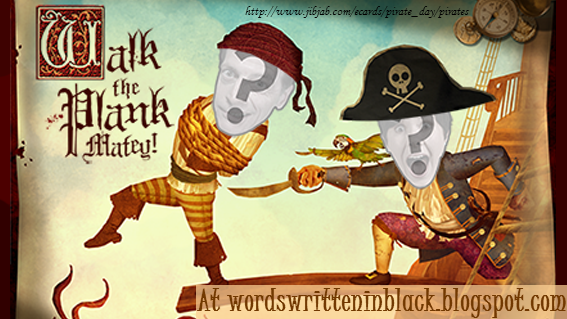 Walk the Plank is a weekly meme hosted here at
The Words Written
, and it's a game that you can play every Thursday. This meme was inspired by all those characters in the books that you hate so much. Yup you heard, or saw, right. It's for those characters that makes you want to throw the book from a window, rip the pages to little pieces, and makes you want to punch the person sitting next to you on the bus. So now you have your chance to kill that character here, and this is how you can do it...
Tell us which character you want to kill? Name, from which book is this character, and if you want to add a picture of how you imagine the character looks like that would be great.
Tell us why you want to kill that character? What did that character do to you?
And how would you kill that character? And guys please nothing graphic, I don't want to have nightmares! (Exa: push them off a cliff, make the walk the plank where the water is infested by sharks, or throw them off a plane without a parachute).
And finally grab the logo, post your own WTP entry on your blog and, leave your link below! So that others can visit your post and decide by commenting if they would totally help you kill the character or if they would save them.
So here's my Walk the Plank...
(Sarah Hyland)
Avery
From: Elusion by Claudia Gabel, Cheryl Klam
Avery isn't evil, unlike the other Walk the Planks characters I've done, she is more annoying. She want's to be a journalist, which you can imagine how she would act. She starts to drag the name of Regan's father through the mud, who died in a terrible accident. That's not cool. Anyways later on in the book we understand why she is so bitchy but you feel bad for her for at least 5 seconds and then you go back to hating her.
So how I want Avery to die,even though she's not THAT bad, is by...locking her in Elusion in a weird Escape. So she won't enjoy the other awesome Escapes that exist.
So are you going to help me kill Avery, or are you going to save her? Let me know in the comments!:)
And by the way you guys really need to read this book when it comes out, it's REALLY good!