So I have started college and all I can say is that it's barely the second week and I already have three books that I need to have finished reading. Thank god for sparknotes! Haha but I admit that I'm really enjoying my classes, and I really like my professors, so that's a plus. Anywho! I just finished reading Unhinged and I'll do a review about it real soon, when I get the time to breathe. The only thing I will say about the book is that I'm so disappointed:( yeah it was that bad. Good thing that I just bought The Darkest Part of the Forest by Holly Black as I am super excited to read it. I'm usually not that big of a fan of faeries but I have to say as soon as I saw the book trailer for it I went to Barnes and Nobles to buy it. So if you guys haven't seen the trailer I'll leave it down here.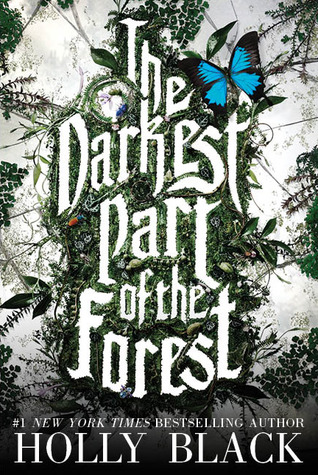 (Love the Cover!)
Summary of the book by goodreads:
Children can have a cruel, absolute sense of justice. Children can kill a monster and feel quite proud of themselves. A girl can look at her brother and believe they're destined to be a knight and a bard who battle evil. She can believe she's found the thing she's been made for.
Hazel lives with her brother, Ben, in the strange town of Fairfold where humans and fae exist side by side. The faeries' seemingly harmless magic attracts tourists, but Hazel knows how dangerous they can be, and she knows how to stop them. Or she did, once.
At the center of it all, there is a glass coffin in the woods. It rests right on the ground and in it sleeps a boy with horns on his head and ears as pointed as knives. Hazel and Ben were both in love with him as children. The boy has slept there for generations, never waking.
Until one day, he does…
As the world turns upside down, Hazel tries to remember her years pretending to be a knight. But swept up in new love, shifting loyalties, and the fresh sting of betrayal, will it be enough?
And Book Trailer: