So as many of you guys know I started reading The Darkest Part of the Forest. I've only read up to chapter 5. Not because I don't like it but because I have school and a job. But so far I really like what I have read. At first I was a little like this...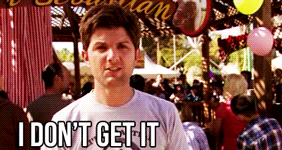 I am not a big fan of fairies, but this book the fairies aren't really like your normal ones, or at least the fictional ones, they are creepy and supernatural. What I really didn't get was why the town was just like "yeah we are the only town with monsters, do you want to have tea?" But I guess maybe that town had been like that forever that's why it was just normal for the town people, idk. Anyways as I kept on going I started to really get into this book. I am literally spending my free (few, precious) minutes reading this book. It's surprisingly really good.
So if you are like me, who feels like you are being overworked and have been really stressed out about everything, just remember to grab a few minutes for yourself and....
Little update: So first things first, my birthday is coming up!(Feb. 21st) Yay! I turn 20 so I am really excited about that:) and my birthday turns out to be on a Saturday, more exactly next Saturday, more more exactly the Saturday that is my final day working at my job. I decided that being a supervisor of the cashiers was too much stress, and not because of the job more because of my manager, anyways I have decided not to work for a month or two. Right now I just want to focus on school. And well now that I won't be working that will mean that I will have more time in my hands! Yay!! Maybe I can finally read the pile of books that I bought and is just sitting in my shelf collecting dust haha. Well yup that is the news I wanted to share with everyone. So for now I'm going back to do some homework:( Oh and remember to treat yo self! every once in a while;)