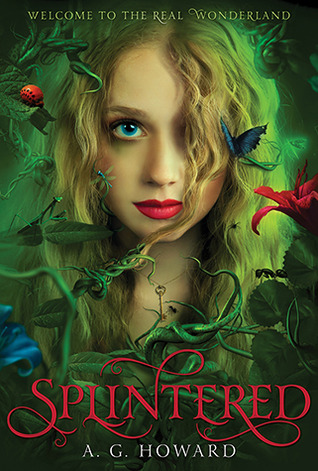 Title: Splintered
Author: A. G. Howard
Series: Splintered
Book #: 1
Pages: 371
Book Rating:
Published: January 1st 2013
This stunning debut captures the grotesque madness of a mystical under-land, as well as a girl's pangs of first love and independence. Alyssa Gardner hears the whispers of bugs and flowers—precisely the affliction that landed her mother in a mental hospital years before. This family curse stretches back to her ancestor Alice Liddell, the real-life inspiration for Lewis Carroll's
Alice's Adventures in Wonderland
. Alyssa might be crazy, but she manages to keep it together. For now.
When her mother's mental health takes a turn for the worse, Alyssa learns that what she thought was fiction is based in terrifying reality. The real Wonderland is a place far darker and more twisted than Lewis Carroll ever let on. There, Alyssa must pass a series of tests, including draining an ocean of Alice's tears, waking the slumbering tea party, and subduing a vicious bandersnatch, to fix Alice's mistakes and save her family. She must also decide whom to trust: Jeb, her gorgeous best friend and secret crush, or the sexy but suspicious Morpheus, her guide through Wonderland, who may have dark motives of his own.
I love this book! And I know I've been saying that about every single book I read but it's the truth. This book is so twisted I love it. I like how we see some characters we have all known from our childhood and they are not what we thought them to be.
Alyssa: She's strong, funny, and a bit crazy. I like how she doesn't depend entirely on Jeb. She can get things done by herself. I think that the reason I really liked Alyssa's character is because she is finding herself. She is realizing how strong and dependent she can be.
Jeb: Ughhh. That's all I have to say. I don't really see the point of him been in the story, Yeah he can be sweet and is very family-oriented. But there were times when he was so overprotective it felt like he was holding Alyssa back. I honestly didn't like him, and as I continue reading Unhinged I am starting to dislike him quite more.
Morpheus: Yay! I am totally team Morpheus! But don't get me wrong I know he is not a saint at all. He is very manipulative. There were times where I was seriously confused because I didn't know if he was good or evil. He is selfish, but selfless. He is manipulative, but sometimes honest. He is thoughtless, but can also be considerate. I honestly love him. He doesn't want to shelter Alyssa he pushes her, so that she can realize her own limits, so that she can see how much potential she has.
Overall I really loved this book. I did not see that little twist with Alyssa's lineage coming, so it was really surprising. There were parts in the book that I had to reread twice because I didn't get but overall it's easy to understand. I really recommend this book to everyone.